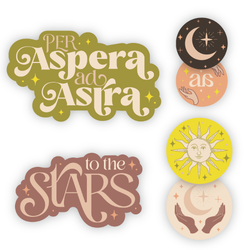 Grab the whole collection! 6 stickers total
Per Aspera Ad Astra - 4" x 2.37"
to the Stars - 3" x 1.77"
Sun and Moon stickers - 2" x 2"
Mini crescent and aspera stickers - 1.5" x 1.5"
These stickers are made from durable vinyl, which protects the design from scratches, water, and sunlight.

Customer Reviews
Put Them in my Sticker Box Because I Am Afraid of Commitment!
These stickers are so cute. Such great quality and the colors are so sophisticated and chic. I immediately put them in my sticker box which contains 1 million stickers. Every day I think, "I should choose some stickers from that box and put them on my water bottle" but then I get weird and panicky and I end up watching Golden Girls on Hulu again for like 2 hours. REGARDLESS, I love these stickers and I am so glad I bought them.