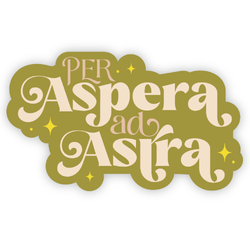 Per Aspera Ad Astra sticker
This latin phrase, translated, means "through difficulty to the stars", and where our brand name came from.
When we make our jewelry, we take soft, bendable metal, and work-harden it through bending, hammering, and tumbling to create a quality piece of jewelry that will last you years.
These stickers are made from durable vinyl, which protects the design from scratches, water, and sunlight.

Sticker is 4" x 2.37"